It's easy to feel shackled by your breast pump if you're using it exclusively. The Baby Buddha breast pump is a very portable model, allowing you to pump whenever and wherever you choose. This post discusses the Baby Buddha breast pump thoroughly.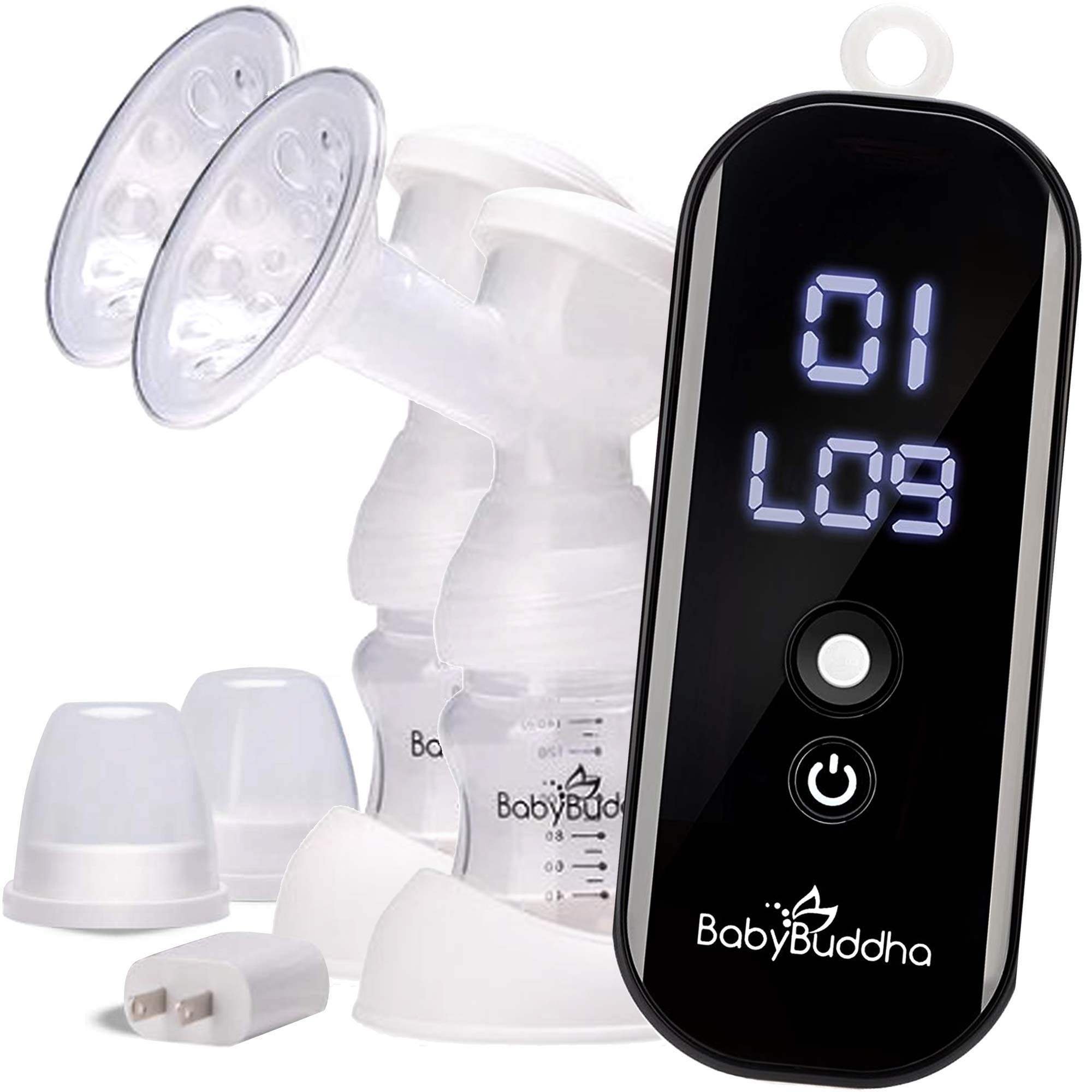 What Is Baby Buddha Breast Pump?
The Baby Buddha is a small, portable, battery-operated pump with a closed system. This pump runs for up to an hour on a single battery charge and may be worn on a lanyard around the neck. This pump is great because it allows mothers to be mobile while pumping, and it can be used with several different collecting cups, making it suitable for covert pumping situations such as beneath a blouse.
Also, this pump can be completely charged from a USB connection in around three hours, is simple to operate and clean, and is recommended for anybody with little mechanical ability. This pump's noise level is so high that it can be heard across the room and over the phone. As a downside, the letdown suction is extremely powerful, which may be unpleasant for certain users. Nevertheless, many mothers appreciate the Buddha's portability and appreciate not having to be confined to a station or outlet to pump their milk.
Pros
The ability to take it with you is a big selling point
Easy to use implement, and take with you
Closed system
Cons
Painful suctioning is a real possibility
audible buzzing
Features of the Baby Buddha pump
This wearable pumping solution allows parents to roam about their day without being bound to a huge electric pump or connected to a pumping station. The Baby Budhha is a convenient pump for working mothers since it has a lanyard-suspended design that includes wearable cups and capture bottles. The Buddha is portable and features an intuitive interface that will have you pounding in no time.
Practicality and Ease of Operation
This pump requires no assembly and may be used immediately. The UI is straightforward, with few options for the user to customize. A lanyard, a simple carrying case, three tubes, a t-connector, bottles for collecting fluid, and a pair of 24mm silicone flanges are all included with the pump.
We discovered that the Buddha was just as effective at expressing milk as a regular electric pump that plugs into an outlet.
Efficiency
Suction levels up to 320 mmHg make this device ideal for many women, allowing for quick and easy voiding. During testing, our subject pumped an average of 3 ounces every 8 minutes from both breasts, with peak yields of 4 ounces in 6 minutes. There are a total of 14 different settings on the pump (5 for letdown and 9 for expression) to ensure that users may reach their ideal level of comfort and efficiency.
Baby Buddha is worn when pumping, making it incredibly portable, and it also comes with a convenient backpack for carrying the pump and components.
Portability
The integrated neck lanyard makes this pumping device very portable. Its little weight of approximately a quarter of a pound makes it convenient for practically any mother to wear or carry. Unlike standard electric breast pumps, which require mothers to remain stationary when pumping, this unit's battery pack enables them to move around while still maintaining pumping time. The battery may be recharged through USB in around 3–4 hours.
Buddha's collection bottles are easily cleaned with a normal bottle brush and some warm soapy water.
Hygiene
The Baby Buddha is an easily dismantled and cleanable closed-system device. These options help keep your expressed breast milk fresh for when your baby needs it.
How to Use Baby Buddha
In terms of complexity, this pump couldn't be easier to use. The only other controls are an on/off switch and a mode/suction roller ball.
Adjusting Mode
The Baby Buddha is equipped with both a letdown and an expression set, like most breast pumps. Most users will begin their pumping experience in letdown mode, moving on to expression mode when their milk has let down.
Although some people swear by alternating between the two, others swear by sticking with just one. As was mentioned above, the Baby Buddha is unique among breast pumps in that every few pulls in letdown mode are lengthier pulls. Test out different approaches until you find one that suits you.
Just push the roller ball to cycle among the available settings.
Suction Control
The suction intensity of the Baby Buddha may be adjusted from zero to nine. Suction may be adjusted by rolling the ball either up or down.
Is Baby Buddha an Effective Pump?
In a word, yes, the Baby Buddha is a fantastic pump. It's durable, easy to carry, and compact. This pump has a lot going for it, therefore I'm giving it my highest possible recommendation.
Can I Use Baby Buddha as My Main Pump?
Yes. With its powerful suction, the Baby Buddha may serve as a woman's only pump or as her main pump for pumping at the office.
Some individuals have discovered that the suction is too powerful in the past, and they have required a more mild approach. In response, Baby Buddha has modified its pump to include an extra suction setting that will be more tolerable for those mothers, and they have also shortened the long pull by a hair.
Is Baby Buddha a Closed System Pump?
The Baby Buddha pump is, in fact, a sealed unit. This is the most secure design, protecting your pump against milk contamination and reverse flow.
What's the Baby Buddha's Battery Life Like?
According to the official Baby Buddha site, a single charge may power the device for up to 60 minutes. My pump session usually lasts a little longer than that, but I still usually stick to level 1. With such a compact footprint and powerful suction, this disadvantage seems inevitable.
Is a Single-Use Baby Buddha Pump Possible?
Yes! The Baby Buddha pump may be used alone or in pairs. You may pump one time with the single tube provided, or twice using the branch tube.
Does the Baby Buddha Breast Pump Make a Lot of Noise?
In terms of noise, the Baby Buddha pump is on the quiet side. Not the quietest pump ever, but also not the loudest.
How Effective Is the Baby Buddha in Increasing Breast Milk Production?
The availability of milk is determined by market forces. Since the body adapts to the need for milk, continued pumping might stimulate the production of more milk. T
Some women have reported an increase in their breast milk production after using the Baby Buddha, because of its powerful suction that is similar to that of a baby's suck. Successful milk collection and increased output depend on a flange that fits snugly.
Do You Think Baby Buddha Has Too Much of a Grip?
The powerful suction of the Baby Buddha may be too much for some mothers. Because of this reputation, I was hesitant to test this pump, but I was pleasantly delighted to find that the suction was exactly perfect. When using the Baby Buddha, I find the lower suction settings to be the most pleasant. This pump will impress you if you want a forceful pull.
To What Extent Should Baby Buddha Components Be Replaced and How Often?
When it comes to maintenance, Baby Buddha suggests changing out your silicone diaphragms every 8 weeks, your duckbills every 4 weeks, and your tubing every 6-12 months.
Conclusion
Ingenious and convenient, the Baby Buddha may be worn by harried mothers. It reduces the amount of time you have to wait around at a pumping station or at home for your milk to express. This technology is portable, user-friendly, and effective. Even while the Buddha has a lot going for it, it's far from flawless. You might probably hear this puppy over the phone, making it less discreet than you may want or need. Additionally, some consumers did not like the strong letdown suction. Nevertheless, despite these reservations, we think it's a top pick among hands-free bras for mothers who travel, works outside the house, or need to be mobile while pumping.